16 April 2020
WMG helps British taskforce with new non-invasive ventilator
WMG, part of HVM Catapult, is helping a UK taskforce scale-up production of their non-invasive ventilator, ready to equip the NHS.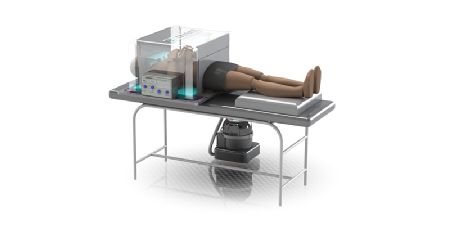 WMG, part of the High Value Manufacturing Catapult, is helping a body of British citizen scientists, medical clinicians, academics, manufacturers and engineers who have developed an alternative model of non-invasive ventilator to support the Government's drive to equip the NHS.
The new model, the exovent, is a cutting-edge reinvention of the archetypal iron lung which saved the lives of countless polio victims during the last century.
Marshall Aerospace & Defence Group, the UK's leading privately owned Aerospace and Defence business, is exploring the technical aspects of the scheme ahead of rapid production and roll-out of the Negative Pressure Ventilator (NPV). The exovent concept is also supported by WMG at the University of Warwick and representatives from Imperial NHS Trust and The Royal National Throat Nose and Ear hospital. Two leading intensive care units have agreed to trial the prototype ventilator support devices.
exovent is non-invasive, which means that patients do not need to have their windpipes intubated, so they don't need to be sedated or paralysed. Instead, they can remain conscious, take medication and nutrition by mouth, and talk to loved ones on the phone. It can be used on a normal ward, keeping patients out of intensive care.
Margot James, Executive Chair, WMG, University of Warwick comments:
"We are delighted to be working with exovent to help scale up their non-invasive ventilator from prototype to volume manufacturing. Our engineers and researchers are collaborating with the exovent team on the design, engineering, component sourcing and assembly of the ventilator. I am extremely proud of the unstinting and dedicated efforts of our research team, led by Archie MacPherson at WMG, and glad that we are able to apply our expertise to this important project."
Find out more about WMG's work.
*Please credit images to John Hunter Steer Energy