The High Value Manufacturing (HVM) Catapult's seven centres are working together and with industry to develop a design framework that will help bring to market a new generation of products that are increasingly sustainable, by design.
The bulk of the environmental and social impacts of product are associated with its use (lifecycle) and production (supply chain) and are a result of the economic and engineering design decisions made in the design phase. Products that are sustainable from environmental, societal, and financial perspectives, will be able to anchor competitive advantage in the UK and generate economic growth.
HVM Catapult's Design for Sustainability and Circularity Framework initiative aims to explore how recent advances in our understanding of the Earth's intricate physical, chemical, and biological cycles, known as the earth system, can be combined with relevant tools, methods, and whole systems thinking approaches to boost environmental, societal, and economic sustainability.
Professor Chris Dungey, Chief Technology Officer at HVM Catapult, says such a design framework is critical if we are to address the challenges faced by industry and society in the 21st century.
He said: "We are keen to hear from industrial stakeholders about the challenges and barriers they face in developing and commercialising the next generation of chemicals, materials, products, and services.
"We also understand that businesses need to be profitable, not just sustainable. So we want this to be a framework – that can help UK businesses, large and small – to be proportionally viable for the both the planet and bottom lines
Among many other aspects we are looking at is how to best incorporate the key concepts and principles embedded in the nine planetary boundaries framework into the innovation and product development lifecycle."
The nine planetary boundaries framework outlines the physical, chemical, and biological systems within which humanity can continue to develop and thrive for generations to come. Exceeding these boundaries could trigger abrupt and irreversible environmental changes, posing severe risks to human well-being and the stability of our planet. The boundaries are: climate change; biosphere integrity; nitrogen and phosphorus nutrient flows; novel entities and chemical pollution, ocean acidification; land-system change; freshwater use; ozone depletion; and atmospheric aerosols.
In 2023, eight engineering Interns from CPI, one of the seven HVM Catapult centres, led an internal project to explore the nine planetary boundaries and their relevance to industry. Their analysis and presentation of their findings highlighted the growing importance of incorporating the scientific knowledge of the boundaries into the design and innovation of future products and systems.
The World Business Council for Sustainable Development, a CEO-led organisation, has also established a shared strategy "Vision 2050 – Time to Transform" for a pathway to an economy that can enable nine billion people to live well, and within the nine planetary boundaries.
Shak Gohir, the initiative's programme director, says the IPCC Sixth Assessment Report and the recent update on the quantification and status of the nine boundaries published in Science Advances are wake-up calls to decision-makers, engineers, innovators, policymakers, industry, and consumers.
"The fourth industrial revolution, coupled with the drive to achieve net zero by 2050 is poised to usher in a new production-consumption system that better respects the Earth's natural and ecological processes. For industry this means developing and manufacturing products and services that are environmentally sustainable, affordable, accessible, inclusive and address socio-economic divides.
"During the design phase, if innovators view products, services, and their associated supply chains and industrial infrastructure as embedded in the Earth System, rather than as externalities, they can design and bring to market a new generation of products that are increasingly more sustainable, by design. In doing so they will be able to anchor in competitive advantage and foster growth, as the global economy transforms."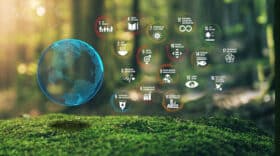 Enabling net zero and sustainability is one of HVM Catapult's four strategic imperatives, addressing what is seen as the key challenges for UK manufacturing as the sector embraces new innovations.
If sustainable manufacturing practices are baked into products during the concept phases of their design, they will require less energy and less material to produce. This will have a direct impact on the emissions associated with the products manufacture, helping industry to quickly and effectively move toward it's net-zero goals while remaining competitive in a rapidly changing, and increasingly sustainability driven, market.
To learn more about the Design for Sustainability and Circularity Framework initiative, contact Shak Gohir at shak.gohir@uk-cpi.com.
Image Credit: Azote for Stockholm Resilience Centre, based on analysis in Wang-Erlandsson et al 2022.