19 March 2013
Vapormatt Wet Blasting technology at NCC
The benefits of world leading wet blasting technology are enhancing the composite bonding performance at the country's foremost international composite research centre.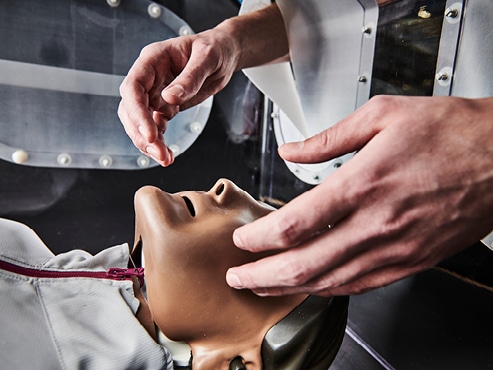 The benefits of world leading wet blasting technology are enhancing the composite bonding performance at the country's foremost international composite research centre. A Vapormatt Cougar system has been installed at the Bristol premises of the National Composite Centre which works with an extensive range of cutting-edge manufacturing organisations and has a widely respected international reputation.
"Effective bonding is a highly critical aspect of successful composite use and can have a direct effect on factors ranging from final product performance to safety," comments Vapormatt's Composite Specialist, Phil Dawes. "Our wet blasting technology, delivered here by the Cougar system, provides such high quality surfaces that the bonding process is optimised and thus contributes significant value to the NCC's development work."
Conventionally, composite materials, including GRP and carbon fibre, have been particularly difficult to bond due to the problems of achieving a uniform matt surface which can be further complicated where grease or dust are present. The action of liquid-born abrasive, central to the Vapormatt process, leaves a lightly abraded and thoroughly clean surface that responds much better to downstream bonding processes. The Vapormatt wet blast process, therefore, fully resolves traditional composite bonding issues.
"The wet blast process involves abrasive suspended in water which is accelerated through a blast nozzle using compressed air and a slurry pump," continues Phil Dawes. "Additionally, the introduction of water creates a buffer between the abrasive particles and the surface being processed which, critically, prevents fibre damage. Moreover, it offers other benefits including the elimination of static build up and continuous surface degreasing."
These are benefits that are recognised by Tom Hitchings Business Development Director at the NCC, who points out that the Vapormatt Cougar system has already played an important role in a research programme being undertaken by a leading aerospace client.
Manually operated, the Vapormatt Cougar features four gloved access points for manual handling of components with the hand-held blast gun then activated by a foot pedal. Pressure can be varied to suit the composite properties and design. A large viewing window allows the operator to monitor progress, ensuring the optimum surface is produced for the subsequent bonding process.
"Our work with industry requires us to call on a range of processes and machines to achieve specific results, many of which are focused on ongoing technological improvement," Tom Hitchings says. "By having the Vapormatt Cougar on site, we are able to achieve stronger levels of bonding adhesion, as and when required, due to the quality of surface finish provided by wet blasting."
"This is a major research and development centre in one of the UK's leading engineering sectors and, as such, it is constantly pushing the boundaries," adds Vapormatt's Phil Dawes, who points out that Vapormatt's technology – including a series of dedicated, fully automatic machines – is already well-established in some of the most challenging sectors of the industry. "These range from wind-power generation and formula one motor racing, to boat building and both the aerospace and automotive industries", he adds.
"We are delighted to have installed the Cougar system and are confident that it will contribute to the research work at the NCC into the future, and support its commitment to developing new uses for composites. At the same time, the Cougar acts as a highly credible testament to our system design and the benefits of our wet blasting technology," he concludes