5 March 2019
Apprentices flying high at Boeing Sheffield
To celebrate National Apprenticeship Week we're shining a light of some of the fantastic talent making a big impact in their companies, bringing limitless energy and enthusiasm to their workplaces.
To celebrate National Apprenticeship Week we're shining a light of some of the fantastic talent making a big impact in their companies, bringing limitless energy and enthusiasm to their workplaces.
One of the companies investing in tomorrow's innovators is Boeing Sheffield, which opened its £40m facility at Sheffield Business Park last year, and has some 25 young apprentices as part of its workforce.
Roisin Chapman-Allison is an Apprentice Machinist at Boeing Sheffield who knows more about yoke component manufacturing for aircraft than anyone else in Europe. And she's only 17.
Opened in October last year, Boeing Sheffield manufactures more than 100 different high-tech actuation components for the 737 and 767 wing trailing edges.
Hailing from Sheffield herself, Roisin is also a second year machining apprentice with the University of Sheffield AMRC Training Centre and says the most important benefit of choosing an apprentice over a traditional academic route is the skills you gain.
"You are working in a real job, gaining the exact skills you need to work out in industry," she said. "This means when I finish my apprenticeship I won't be thrown in at the deep end as I would have been if I'd gone to college, I'll know exactly what I want to do and how to do it."
Due in part to her strong work ethic and aptitude, Roisin's supervisor – Senior Manager for Operations at Boeing Sheffield – James Needham, said she is now the highest subject matter expert in the EU for manufacture of yoke components for the Boeing 737 aircraft, one of the longest steel parts which make up the actuators on an aircraft wing, allowing it to maintain efficient flight at low speed.
At 17-years-old, this is quite an achievement.
"I am able to see the success I am having in my work – working within a cohesive team to achieve group targets gives me a lot of job satisfaction," Roisin added.
"I come from a family of engineers and I knew I wanted to be an engineer also. Some young people when they leave college might not know what to do, but I feel like my apprenticeship has given me great focus.
"Studying and working for an apprenticeship shows you all the opportunities that are available to you in your chosen field and if you aren't sure what specific area you may want to work in when you are older, an apprenticeship allows you to explore those options.
"It also opens up so much more opportunity to you, with Boeing I've not only had amazing experiences such as being able to travel to places like Austria and the United States for my work, but I will be able to pursue my apprenticeship further and complete a degree-level education."
Roisin said she was surprised when she first started her apprenticeship. She said: "I assumed it would be like studying at college, but it's much more than that and I'm so happy I chose this path. It provides a really great balance between college and work life, and with my job at Boeing Sheffield I earn whilst I learn, meaning I will be able to finish my education without having to take on another job, or student debt like others would."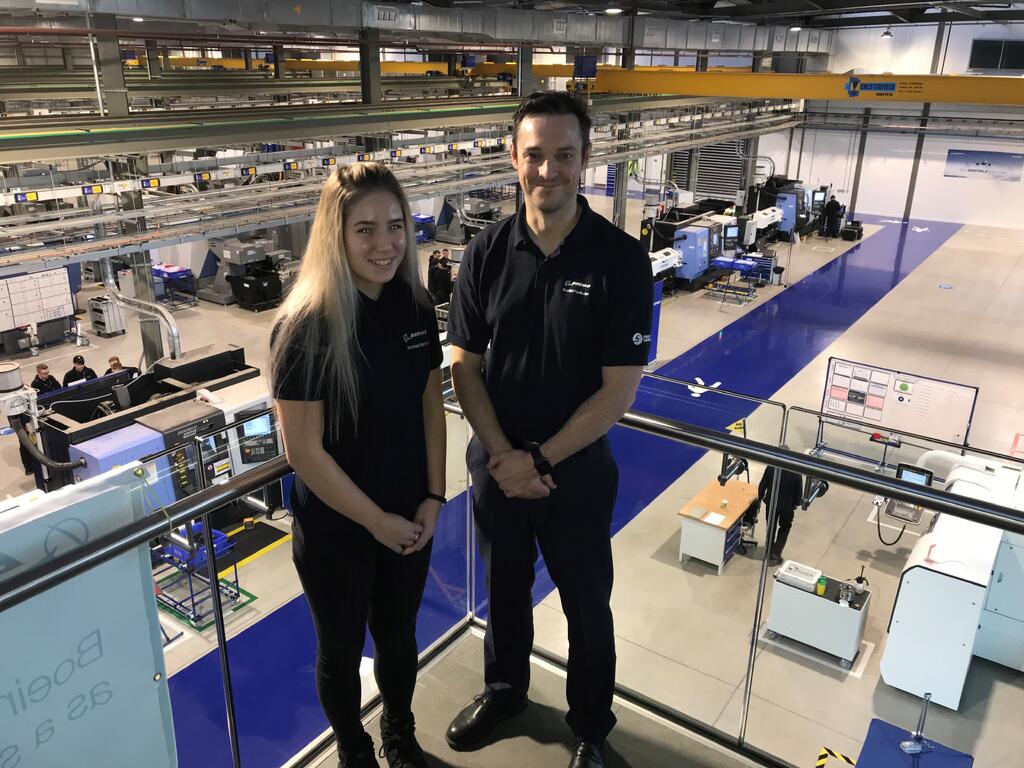 Roisin Chapman-Allison and James Needham on the balcony at the new Boeing Sheffield facility.
From day one at Boeing Sheffield, Senior Manager for Operations, James Needham was impressed at how valuable the new apprentices employed there quickly became to the company.
"They are an integral part of our team here and they are not just here to help; they are our operational workforce and they are exceeding our expectations," said James.
"A core principle of our production system is developing our people, and when we invest in our future workforce – engaging motivated young people to provide a good career development path – both Boeing and the apprentices reap those rewards."
James said the apprentices bring a new working culture to Boeing, bringing fresh ideas and suggestions for continuous improvement to operational processes.
"Continuous improvement is critical for success in a production environment that works within to a highly regulatory nature of standardisation," he said. "So we want to develop our apprentices to be experts in their field and it is a measure of success for us both that they develop and achieve fantastic things.
"Through engaging with our production processes and having the educational skills as well as practical skills, apprentices like Roisin can become subject matter experts in their field and contribute to achieving significant improvements for the team."
He added: "The attitude and motivation that the apprentices bring to Boeing Sheffield is invaluable. The Boeing Company operates world-wide, so we focus on providing the opportunity for our apprentices to develop their careers, and it is a measure of our success when they achieve fantastic things.
"After a three year apprenticeship at the age of 20, our apprentice machinists will have a full education, valuable work experience and the ability to display many of the professional attitudes required to work in a global company. My own CV took another 20 years to look like that!"