5 November 2018
State-of-the-art visualisation suite opens at the AFRC
AFRC has opened a state-of-the-art digital visualisation suite at its premises in Inchinnan next to Glasgow Airport
The University of Strathclyde's Advanced Forming Research Centre (AFRC) has opened a state-of-the-art digital visualisation suite at its premises in Inchinnan next to Glasgow Airport. The suite, designed and kitted out by the centre's tier one partner Virtalis, is the only one in Scotland with its unique set of capabilities available for commercial research and development work.
The visualisation suite is the latest addition to the AFRC's armoury of industrial scale kit and digital manufacturing capability. It sees the centre integrate fully-immersive virtual and augmented reality technologies with the wider industry 4.0 / smart manufacturing theme. This technology has the ability to significantly help companies in terms of planning for the future and making better decisions.
The centre-piece of the suite is a 10m2 Virtalis Active Wall, a fixed 3D stereoscopic projection system with head and hand tracking system that allows multiple users to view 3D content stereoscopically. The centre also has a portable Active Move system that can be taken to industrial premises. The suite's extensive kit list also includes a HTC Vive, an Oculus Rift and Touch along with numerous pieces of Microsoft, Apple, Google and Samsung equipment.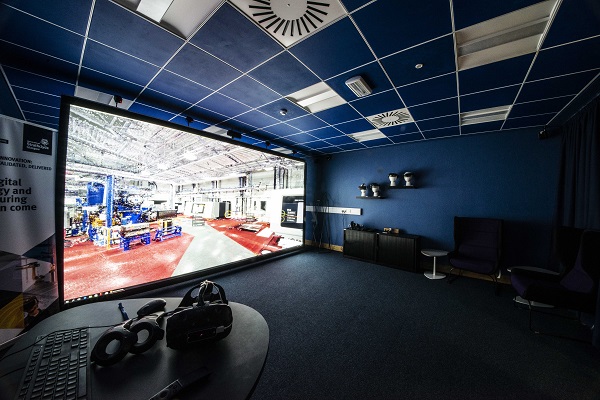 Speaking about the suite Danny McMahon, AFRC's team lead on digital manufacturing, said: "We're excited to bring this new capability to the manufacturing sector.

"The whole manufacturing sector is seeing a shift towards digital manufacturing, in line with the industry 4.0 concept, and visualisation plays a crucial role in this.

"The type of capability we have here at the AFRC can really help manufacturers of all sizes, from all industries embrace digital manufacturing.

"Working on fully-immersive virtual and augmented reality, we create content for companies allowing them to test different scenarios, such as the use of space, changes to the production line and implementing new equipment. This can help significantly in terms of planning and reducing wasted time, effort and money.

"This is all supported by our capabilities in connectivity in terms of helping companies gain a better understanding of processes and equipment through the Internet of Things."
The development of the visualisation suite marks a significant milestone in the partnership between the AFRC and Virtalis, the world-leading advanced visualisation company.
Guenter Dahm, Virtalis Group CEO said: "As a supplier of transformative visualisation technology to manufacturers, the valuable network the AFRC creates gives us a forum to discuss the aspirations of industrial leaders and pursue collaborative projects to improve organisational performance and potentially gain competitive advantage."

Speaking about working with market leader, Virtalis, Danny said: "To have Virtalis as a tier one partner in the centre allows us to enhance our capabilities and help more manufacturing businesses.

"Not only are we working with them on visualisation, we're also using their equipment to help engineers adopt these technologies effectively and increase the technology readiness level (TRL) of the organisation.

"The adoption of potentially transformative technologies is a key part of our digital manufacturing strategy. Without doubt it's going to transform the skills that are required for future engineers.

"It very much is an exciting time for manufacturing and we're delighted to be able to help companies prepare for the future."