15 February 2021
Manufacturing our way out of COVID
The manufacturing sector has delivered in the COVID crisis. Head of IfM Tim Minshall says that we should use this to build back better.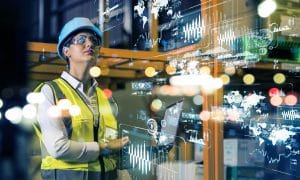 COVID has wrought havoc on our economy but has also lifted the veil on the importance of one key sector: manufacturing, says Tim Minshall, Head of the Institute for Manufacturing.
Given my job, I might be just a tad biased on this point but it seems pretty clear that this sector has played a pivotal role in our response to COVID and gives us the foundations for 'building back better'. However, I think there is a genuine risk that lessons learned by the manufacturing sector during COVID will be lost unless three issues are addressed.
How the invisible became very visible
Throughout the pandemic, the hugely important role of manufacturing in the UK economy emerged in sharp relief. Empty supermarket shelves, shortages of PPE, lack of intensive-care ventilators all resulted – in part – from over-reliance on long, complex international supply chains and an under-investment in domestic production capabilities. The normally largely invisible world of 'making and delivering stuff' suddenly became very visible, and there were several jarring moments when inherent fragilities in our manufacturing systems became very clear.
Improvisation at scale
COVID also allowed us to witness the extraordinary range and flexibility of the UK's manufacturing capabilities. We saw how supermarkets were able to reconfigure their staggeringly complex global networks of suppliers to respond to surges in demand; small manufacturing firms were able to repurpose their factories to make PPE for frontline healthcare workers, and the yawning gap between the number of available and needed ventilators was bridged by the lightning-fast response of the diverse manufacturers brought together by the UK Ventilator Challenge. And, of course, we are now also seeing the jaw-droppingly rapid scale-up of the logistics for mass vaccination.
But it can't always be a crisis
COVID has brought to the foreground the criticality of manufacturing within the UK economy. It has allowed the sector to demonstrate its outstanding capabilities in response to a crisis. However, I think we need to focus on three issues to allow the manufacturing sector to deliver on its potential to support regional and national recovery.
Firstly, while the ability of manufacturing firms to reconfigure, repurpose, and improvise is a vital national capability, it shouldn't be regarded as a substitute for planning and preparation. The US academic and entrepreneur David Teece talks about the importance of 'dynamic capabilities' (responding to change and doing new things) and 'ordinary capabilities' (having the systems and plans in place to make sure the routine things work). Nations, as well as organisations, need both: it would seem odd to continually rely on heroic responses to crises that have been anticipated, such as a 'flu pandemic (as shown below rather starkly in the UK's National Risk Register since 2008).
Secondly, manufacturing has the potential to deliver sustainable competitive advantage for the UK – but to realise this potential, we need to think of it as an integral part of our national innovation ecosystem. Without manufacturing, the fruits of the UK's outstanding science and technology will not be converted into new products and services, and the UK will start to lose its hard-won competitive advantage*.
But manufacturing is not something that just happens as the final stage of innovation: drummed into every manufacturing engineer from day 1 is to think about the 'how' of the manufacturing process in parallel with the 'what' of the product design. A recent talk from a senior policymaker who talked of the importance of those involved in innovation 'as well as those involved in manufacturing', as if it was a separate thing, shows that we need to work a bit harder at getting this message out.
Finally, while COVID has demonstrated phenomenal capabilities of individuals and teams across the UK manufacturing sector, we need to have a system that better supports the long-term development of people with the right skills at the right time in the right place. We know what needs doing: skills and workforce development need to be tightly coupled with the development of new technologies, and with the development of supply chains that ensure new technologies sit at the heart of new products and services that create sustainable competitive advantage.
None of these actions are particularly revolutionary, and all have been identified by people much smarter and more experienced than me. But I think it would heap tragedy upon tragedy if we were not able to put the lessons from the manufacturing sector's experience during COVID to genuinely build back better.
---
* And if you want to read more about this, David Sainsbury's new book is well worth getting.
Professor Tim Minshall is Dr John C Taylor Professor of Innovation and Head of Institute for Manufacturing at the University of Cambridge. Check out more news from the Institute of Manufacturing.