Manufacturing a greener world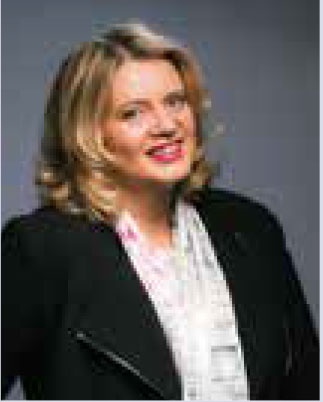 Katherine Bennett
Chief Executive, HVM Catapult
(2021-)
New chief executives need to be lucky in their predecessors. At the HVM Catapult, I have inherited an organisation nurturing ground-breaking ideas and technology that touches and improves everyone's lives, in every part of the country.

Dick Elsy has fostered a collaborative approach across seven independent centres, working from 17 sites, supporting some of the most brilliant minds the UK
has to offer.

For me, that success was best exemplified by the Ventilator Challenge, a race against time in the midst of a pandemic that has caused so much pain. Dick and his team should be extremely proud of the way they helped to ease the suffering of thousands of people by pulling together an industry consortium so quickly and effectively.

The foundations are in place for the HVM Catapult to be at the heart of the post-pandemic recovery. Our ambition is to make the UK a leading industrial superpower by the end of this decade, doubling the value of manufacturing as a proportion of the economy to 20%.
By 2030, we want to have supported the growth of 20,000 SMEs and brought 10,000 new products or processes to market.
As awful as the pandemic has been, it has reminded us that nothing is more important to the economy than people. We will focus relentlessly on skills over the coming years, making sure the UK is equipped for a digital and sustainable industrial transformation.
We aim to train or upskill 200,000 scientists and engineers a year once the 2020s draw to a close.
Greening the economy is no longer a buzz phrase in business and politics. This decade will be defined by the drive to net zero and the HVM Catapult's Centres will deepen their collaborative spirit as they lead those efforts.

This year, expect our Centres to launch a range of initiatives in and around the UN Climate Change Conference - COP26 - in Glasgow. We're hugely ambitious for this work and believe we can hit a target of reducing greenhouse emissions from UK manufacturing by more than 40 megatons during the 2020s. To put that in context, manufacturing 46 bags of cement is estimated to create one tonne of greenhouse gas emissions – so we're looking at incredibly advanced technology and processes to achieve such a turnaround. My first task, though, is to listen, so that I understand the challenges, risks and opportunities facing our centres.
I do believe that embedding further collaboration can only better position HVM Catapult to attract inward investment to the UK and meet our target of doubling R&D expenditure in UK engineering & manufacturing to £44bn. But I am also aware that the HVM Catapult's structure was designed to support and enhance the work of our Centres, not interfere.

From Renfrewshire to Bristol, Liverpool to Coventry, the HVM Catapult is always here to help, co-ordinate where necessary, but never impose.
By working together, we will lead the UK's clean, green recovery in 2021/22 and its industrial transformation over the years to come
Download the Annual Review 2021