A stroke is a life-threatening medical condition, affecting over 100,000 people in the UK each year. It's highly treatable, but speed is critical. For every minute delay in administering life-saving drugs, a patient loses around two days of healthy life.
Currently, it's notoriously difficult to diagnose a stroke, with paramedics relying on the FAST (Face, Arms, Speech, Time) test which also identifies 'stroke-mimicking' conditions. With several other conditions causing similar symptoms, 50% of those referred to hospital with a suspected stroke are mimics.
Working with Warwick Manufacturing Group (WMG) – part of the High Value Manufacturing network, Sarissa Biomedical Ltd set about the task of increasing the accuracy of stroke diagnosis.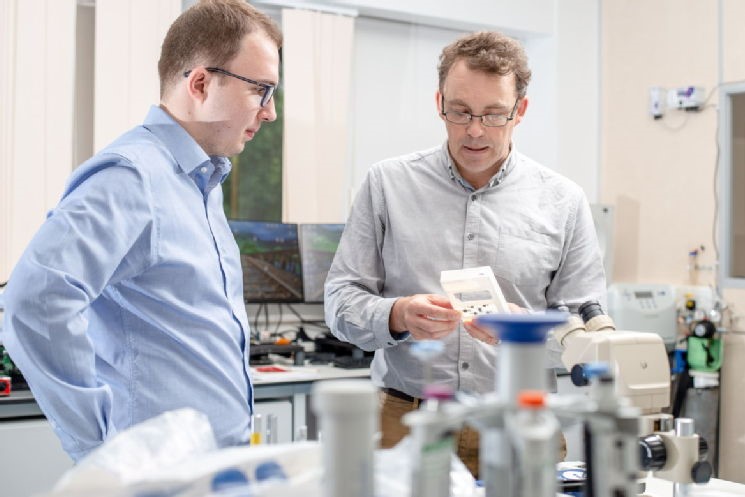 The Challenge: Accurate diagnosis of stroke
Professor Nick Dale, the founder of Sarissa Biomedical, developed an innovative biosensor to detect purines (a chemical) in blood. This breakthrough biosensor was 1,000 times more sensitive than a glucose strip, enabling new diagnostic tests for a variety of conditions which were previously not possible.
Back in 2007, Sarissa Biomedical recognised the potential of these methods to create an accurate test for stroke. Clinical trials in 2014 and 2016 showed that these purines were elevated in stroke patients, and not stroke mimics. Combined with the FAST test, their discovery had potential to reduce misdiagnosis and avoid the burden of treating non-stroke patients in expensive specialist units.
This revolutionary concept won them a £2m grant from Innovate UK's Small Business Research Initiative (SBRI) to trial a handheld version of the test in ambulance services around the UK. Now against the clock, the Sarissa Biomedical team needed to move from laboratory test to viable commercial product. It had to be robust and practical, providing fast and reliable results on the go. That's where WMG came in.
Professor Dale, CTO of Sarissa Biomedical said:
"We had the diagnostic technology, but we needed to develop a device to deliver a point-of-care test. It had to be lightweight and safe, and we needed to trial different ideas quickly to reach the optimal solution. Working with WMG allowed us to do just that."
The Solution: Stroke diagnosis device prototype
The company worked closely with WMG's SME Group on designs and 3D-printed prototypes, initially, for the instrument cover and base only. But the positive experience of working with WMG alongside the flexibility and agility with which they could carry out the design and printing, led them to increase their scope to include the flexible key pad and other components.
Radovan Gallo, KTP Associate at Sarissa Biomedical, said:
"We were using expensive outside companies that would take several weeks to send the printed prototype. It was just too slow. Being located on the Science Park just a few minutes' walk from WMG meant we could work with them in person on the design. And their experience and knowhow was a huge boost to the project."
Neil Jeffree, Technology Transfer Engineer in WMG's SME Group, worked on the project with Sarissa Biomedical. He said:
"We focused on helping the team reduce weight inside the unit to save material cost, while positioning the internal electronics precisely. Since we have expertise in injection moulding, we advised on tooling and put them in touch with potential suppliers for when they go into full production."
In this way, Sarissa Biomedical were able to prove out their concept in a physical form prior to the trial. This meant that the final design was correct for manufacture, and had a clear route for production.
The Impact: Scaling up medical tests
Clinical trials of the device will commence in the summer of 2019 and will last for 18 months, with both Dale and Gallo confident that this will yield positive results. Once trials are complete, Sarissa Biomedical hope to scale the device up to a commercial product.
Jeffree said:
"No one in the world has developed a test like this in the 25 years of stroke research. In the US alone, they spend $35.5bn on stroke treatment and in the EU it's around €27bn. So demand is potentially going to be huge.

Getting this product to market will be a long process, it's not just as simple as signing a form, as there are extensive checks and standards to meet. But the work we've done with WMG has helped us get to this stage faster and more cheaply than we could have done otherwise."
This is not the last we'll see of Sarissa Biomedical, with further research into process automation and production scaling ongoing via a follow-on Knowledge Transfer Partnership with Aston University. In fact, Gallo recently won the prestigious Knowledge Transfer Network (KTN) Best Future Innovator Award, for this medical tech innovation (among other projects). So, watch this space for more developments.
Looking for support for your med-tech innovation? Find out how we can help with technology development, testing and policy insights.